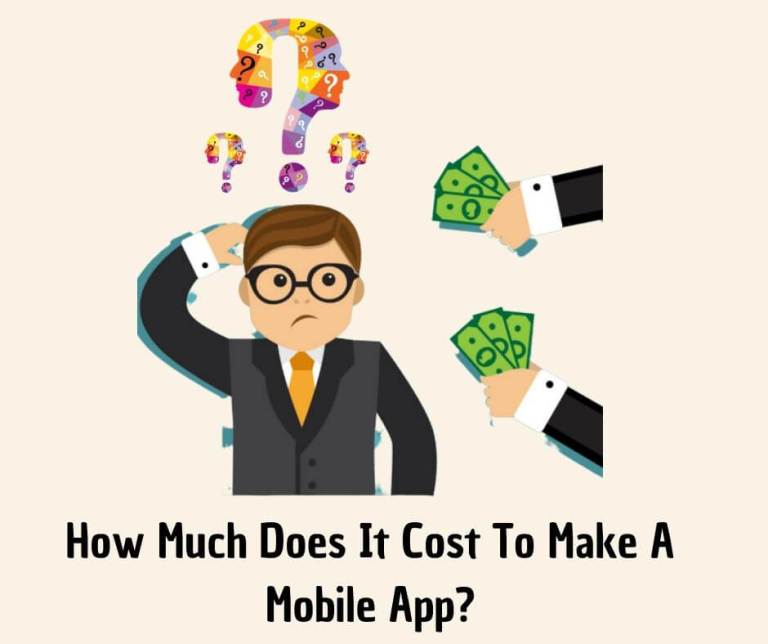 App Development Cost India: How Much Does it Cost To Build a Mobile App In India
In this app development cost estimation blog you will know how much budget you should have to develop a mobile application for your business and how much does mobile app development cost in India. Table of Mobile App Development Cost
Types of Mobile Apps
The cost to create an app also depends on your application type and category. There are three types of mobile applications.
Web Application
It is basically a website that is crafted for smartphone users. However, the truth is that most of the users prefer mobile apps over mobile-optimized websites.
Native Mobile Apps
It is one type of app that is developed specifically for either Android or iOS. These apps are complex in nature and provide a great user experience.
Hybrid Apps
Based on a single programming language, hybrid mobile applications are designed to perform on both iOS and Android platforms.
Though they are easy to develop and manage, their user experience is not so impressive.
How Much Does Mobile App Development Cost In India?
Though you might get a number of answers to the given question, one preferred way to find out the cost of creating an app is to consider the costs incurred on creating some of the most popular apps in the world. Although this is not a sure-shot way of getting the exact figure, this practice would help you get a lump sum idea on the cost when you look at the cost of an app that is similar to yours.
Calculating Mobile App Development Cost
One simple and widely chosen formula finding out the cost to make mobile app is:
Mobile App Development Cost: Number Of Man Hours & Hourly Rate
Taking one step further, you can refer to the following formula to attain a high degree of precision:
(Features*Time) X Hourly Rate = Mobile App Development Cost
One thing that is important to note here is the hourly rate. As this cost may vary depending on the app developer you hire, your final cost of developing an app may change at the final stage. The business landscapes As everything we do to make money, revenue is one aspect that can't be neglected right from the initial stage. Also, this influences the eventual cost of creating an app.
Factors That Affect Mobile App Development Cost
Which mobile platform does your target audience like?
What's the product that you want to sell?
Are there any devices that are required to integrate to make your app more responsive?
Is your app free or paid?
Does it have any in-app purchases?
Does your app feature any advertisement?
It is necessary that you get an answer to all the given questions to decide the average cost of app development.
For instance, if you want an app that needs in-app purchases, the cost to make an app would go up due to the increased number of complexities. In the same way, developing an e-commerce app would cost more than a normal app.
This is necessary because after all, you're doing all the stuff just for them. So, make sure you know them well.
If you can figure out how your mobile app is adding value to them, you can easily get the answer.
You can find a number of cases where a company had unable to identify its audience and ended up losing them due to a better strategy adopted by its competitors.
Paid Mobile App, A Free Mobile App or Ecommerce App? In general, free apps generate funds through advertising, sponsorship, and email marketing. Quite obviously, e-commerce apps generate money by selling products through the web. In the same way, paid apps ask the user to register and pay the subscription fee like Netflix, Hot star, etc. By knowing your audience thoroughly, you can determine what type of app is best suited for you.
Single or Cross Platform Mobile App Development? Another important point to consider while determining the most precise cost of developing a mobile app is the selection of a platform. Do you want your app to work on a single platform or multiple platforms? This can actually be decided by understanding the preference of the users.
OS Version
Mainly, there are two versions – iOS and Android. Between them, Android is more popular. But it is not just about the popularity and reach, the technicality of the app also determines which platform is best for the same.
For example, if your app is highly technical in nature and is supposed to do specific actions that can be performed best with advanced versions of OS, then it may be a better idea to limit the availability to the specific versions and lower the average cost of app development.
According to experts, it is always advisable to go with the latest platforms so as to make an enduring impact and cost lower.
However, if you don't have budget restrictions, you can go for both the platforms. For better decision-making, refer to the below table.
IOS Application Development Benefits:
iOS apps usually cost less than that of Android apps and are faster to build.
iOS audience is generally upmarket and has more purchasing power, which means that paid apps are more successful on this platform.
iOS users are found to be more faithful as compared to that of Android.
Apple has a stringent guideline in terms of app quality. iOS version of an app typically does more business than that of its Android counterpart.
iOS platform is more interactive and easier to use in general.
Android Application Development Benefits:
The no. of users for Android is more than iOS, particularly in Asia.
Android has lower costs per download in comparison to that of iOS.
Android has low maintenance costs as they are not supposed to be refreshed regularly like that of iOS.
Guidelines for Android are very much relaxed which brings down the cost of app development and hosting on the Android sphere.
IOS Applications Disadvantages
More hosting cost for iOS. It can reach up to $200 for iOS as compared to that of $25 for Android.
Less no. of iOS users in the Asia-Pacific region.
Quite hard to seek approval due to strict guidelines.
Android Applications Disadvantages
Most of the Android users like free or low-cost apps. So, paid apps are not advised for this platform.
It takes a bit longer to develop an Android app.
IOS Mobile App VS Android Mobile App Pros And Cons
The above-given table would help you decide which platform is best for your app and accordingly, you can make a mobile app development cost estimate.
In-House Mobile App Development Or Outsourced Mobile App Development?
This is one aspect of the process that has the maximum impact on the cost of app development.
This is why it is not a wise move to delay in releasing an app by choosing an experienced developer. There is no point in comparing the low cost of app development with the final revenue after the release.
Though developing the app in-house is economical in comparison to outsourcing the job to a mobile app development firm, it is strongly suggested to do a detailed analysis before making the final decision.
How Much Price App Developers Charge For Mobile App Development?
As it has been already mentioned that the charges are levied on an hourly basis. They vary from region to region. The uppermost priced rates per hour are basically 25 times than the lowermost priced hours.
Even if you're a reasonable budget, it is better to prefer somewhat good quality over lower app development costs. On the other end, if you have the budget and love to develop an app developed with full-fledged technicality to deliver unmatched user experience, it would be a great idea to choose a high price model.
Country Wise Mobile App Development Cost:
| | |
| --- | --- |
| Mobile App Development Hourly Rate Country Wise | App Development Cost |
| US and Canada | $50 to $250 Per Hour |
| Australia | $50 to $150 Per Hour |
| Western Europe And The UK | $35 To $170 Per Hour |
| Eastern Europe | $20 To $150 Per Hour |
| India | $10 to $80 Per Hour |
Now let's consider it takes an average of 300-600 hours to develop a mobile app, the above-given table might be of great use in determining the actual cost of developing a mobile app.
Talk To A Mobile App Development Expert In India
As mobile app development is a job that involves lots of complexity, it is better to consult an expert for better decision making. An expert would help you understand both the technical as well as the commercial side of app development.
In addition, having an insightful knowledge about the process, it would be easier for you to determine the actual cost an iPhone app development or Android app development.