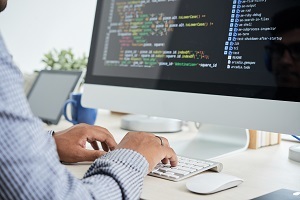 Overview of Indian IT industry
Overview of Indian IT and IT enabled Service Industry and Impact of Covid-19
Overview of the IT and IT enabled Service Industry
India: the leader in IT Outsourcing
How protectionism due to Covid-19 is affecting the market size
The Information Technology and enabled services has been one of the key driving forces fuelling the world's economic growth. The IT sector includes IT services, Business Process Management, Software products & engineering services and hardware. IT outsourcing is the strategic use of external service suppliers to efficiently provide IT-related business process, application service and infrastructure solutions for end-to-end business outcomes which were conventionally handled by internal resources. Companies opt for outsourcing primarily to scale back their business costs, accelerate time regarding completion of project, rely on external expertise to achieve tasks different from their core competencies and take advantage of intellectual property amongst others. As per Statista, in 2019, the global market size of Information Technology Outsourcing (ITO) amounted to USD 66.52 billion which was 72% of the worldwide market size of outsourced services. The IT services market has inflated considerably by around USD 160 billion since 2015 (total size USD 866 billion) and is forecast to grow by another 110 billion between 2019 and 2021. 
While Europe, the Middle East, and Africa (EMEA) are maintaining the largest share of IT outsourcing, India continues to be the most popular destination generating USD 137 billion of IT exports primarily through IT enabled services. Indian companies have established more than 1,000 global delivery centres in nearly 80 countries across the world. Software development outsourcing being one of the most mature industries of India, owns a large pool of IT specialists wherein the country benefits from being 5-6 times (or 80%) inexpensive than the U.S. The IT industry contributed around 7.7 per cent to the country's GDP in 2018 and is predicted to contribute 10% of India's GDP by 2025. In FY 2019, the industry generated revenue of USD 181 billion, which was majorly driven by IT exports whereas domestic revenue totalled to around USD 44 billion. The substantial portion of export revenue was generated from the US at around 62% followed by the UK at 17% and rest of the Europe at 11%.  The below graph depicts the growth of export revenue which has soared at a faster rate in comparison to the domestic revenue over the years.
To create diversified offerings, India's leading IT service suppliers like Infosys, Wipro and TCS are providing varied products, showcasing leading ideas in blockchain and artificial intelligence to clients using innovation hubs, research, and development centres. Overall, in 2017, the industry provided direct employment to nearly four million people and indirect employment to more than ten million. In 2019, the TCS' revenue reached almost INR 1.5 trillion (USD 21 billion), thus making it the largest India-based IT services company that year. The competent IT services market of India have attracted significant investments from major countries. As per the data released by Department for Promotion of Industry and Internal Trade, the computer software and hardware sector in India attracted cumulative Foreign Direct Investment (FDI) inflows worth USD 43.58 billion between April 2000 and December 2019 and ranks second in inflow of FDI overall. Recently, Tata Consultancy Services undertook a partnership with US based pharma company Walgreens Boots Alliance and grabbed a contract worth INR 10,650 crore (USD 1.5 billion).                                
Impact of Protectionism due to COVID-19
IT outsourcing is one of the most flourishing industries in the world. However, with the outbreak of coronavirus; a mixed impact is expected on the IT outsourcing industry.
As many economies are continuing with the lockdown due to the Covid-19 issue, revenue generation for most companies across sectors has been affected while rate of unemployment has also inched upwards. Amidst fear of worsenning economic conditions, the countries and companies largely dependent on outsourcing are trying to control the IT service imports so that they can employ their own resources to the assigned job. For instance, two major companies of Australia – Telstra and Optus and Britain's Virgin Media, which had partnered for process outsourcing with India & Philippines, have announced to give preference of employement to candidates in host country only.
As per the UN's report, India is among the 15 most affected economies due to the COVID-19 pandemic. While there have been no contract cancellations so far by the service partners in various geographies, many clients have asked for reduced support for application and maintenance services.The disruption of world trade due to the pandemic, is expected to have a trade impact of USD 348 million on India, although it is very low in comparision to its counterparts such as Europe (including the UK), the US, Japan and South Korea.
Amidst the challenging situation due to pandemic that the IT industry is witnessing, the companies are expected to significantly see their growth slow. Large players like TCS, Infosys, and HCL technologies are at the frontline to bear the maximum jolt as the demand from clients in the US and Europe, which are worst hit by COVID-19, is expected to fall. The revenue is expected to be reduced by approximately 2-7% largely impacted by the slowdown in decision making, delay in pipeline conversion and project execution and pricing impact on core business. However, many businesses who has never given a thought of outsourcing could capitalize on this situation to partner with a few outsourcing firms during this time to stretch their wings. Now companies are adopting work from remote location, thereby requiring more cloud services and  IT applications to effectively enhance and strenghthen their information related security from cyber attacks. So on one side, when the Indian IT industry is expected to witness pressure on new contracts and pricing, there are segments within the  IT domain wherein outsourcing is anticipated to increase. Near term issues persist, though the same problems are likely to open new opportunities to some within the outsourcing services area.
https://www.televisory.com/blogs/-/blogs/overview-of-indian-it-and-it-enabled-service-industry-and-impact-of-covid-19