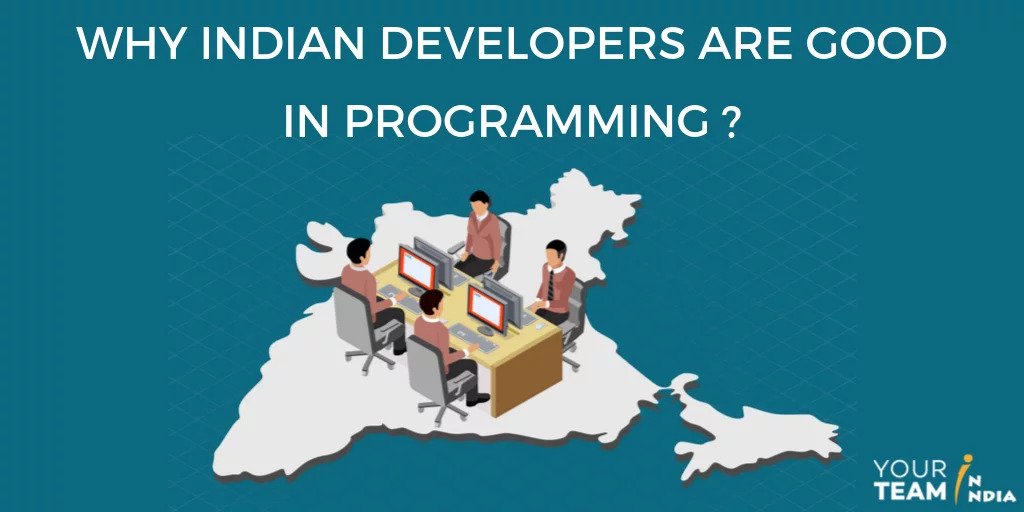 Why Indian Developers are good to hire for Programming?
Why Indian Developers are Good to Hire for Programming?
In today's technology-driven world, new and innovative software is being deployed every now and then. This pushes all organizations to stay on top of the game and scale their business.
Outsourcing is a well-known concept and companies are utilizing it throughout the world. The budget-friendly approach helps businesses to focus on their core competencies while offshoring the other services to low-cost countries.
But the moment entrepreneurs make the decision to outsource, the first question that strikes their mind is; which country is the best to hire developers with technical expertise at affordable prices?
Well, the quick answer is India. Out of all the countries around the globe, it is one of the best destinations for outsourcing software development requirements. To get started, here's a quick list of reasons that make outsourcing in India a value for money option.
Why India is the Best IT Outsourcing Destination?
The abundance of the talent pool
Low cost of living and hourly rates
Communication skills of Indian professionals
Cultural compatibility
Support from the Government
Quality standards, reliability & and the list goes on.
In fact, 'Hire Indian developers' is one of the most popular terms searched on the Internet today, in context to outsourcing or offshore software development. But the real question is what makes Indian programmers best in the world. So, without further ado, let's discuss it.
Why Indians are Good at Programming?
The latest technology trends and employment scenario has called for nothing but the best. To earn a good salary, individuals in India having an interest in the software development field starts working as a freelancer while studying in college.
To completely understand the dynamics, they start their career early. They know if they become good coders, not only it will increase their value in the market but they also grow as professionals. As mentioned earlier, the abundance of talent, less cost, easy availability, client satisfaction, and impressive economic growth are some of the reasons behind India becoming the world's foremost offshoring hub.
Over the years, the country has become the first choice for many countries when it comes to hiring dedicated offshore developers. Here's the list of intellects that urges businesses around the globe to work with Indian developers.
1. Indian Developers Are Highly Educated
The Indian education system is very strong and people believe in providing formal education to their children. Pursuing graduation is common in India. And a majority of youth in India are into software engineering. Thus, there is no shortage of talent across the country.
2. Indian Programmers Has Technical Knowledge
Indian developers are not only educated but also possess high technical knowledge. The technical acumen helps them to build amazing websites, Andoird, and iOS app for transforming the business digitally. Being technically strong, the developers across India readily take on new challenges.
3. Indian Developers Offers Client Satisfaction
Indian developers offer the best services to their clients. As the offshore companies in India are aimed at satisfying the global clientele regardless of the type of their business and project size.
India developers provide client-centric solutions while keeping the quality standards high with the help of various tools. For the corporate, it is actually a golden opportunity as they can anytime cash on the scenario by getting the value for money.
For the reference, more than 75% of the world's CMM Level 5 certified companies are based in India.
4. A Good Investment
For sure, outsourcing is a cost-effective strategy. Not only it helps you save a lot of money in terms of infrastructure, overhead salary, hardware and software requirements, but also bonuses, other employee benefits, etc. And if you choose to set up an offshore development center in India, you can actually save up to 60% or 70% on the software development cost, without compromising on the quality.
5. Getting Hired as a Developer is Tough
India is the second most populated country in the world after China. And when the population is high, career avenues and professional growth become limited. You have to be extraordinary to stand out from the rest.
The current scenario in India is that developers that are not really good, do not get a job. So, if you are working with a reliable outsourcing partner, you can stay rest assured that your team has exceptional skills.
6. Indian Developers are Self-Taught Learners
Having the availability of online channels and coding communities, most people start learning from them. As we said, Indian software developers start working on their coding capabilities while studying. This gives them enough exposure to the programming languages, frameworks, tools, and libraries, before actually starting working in a company.
This self-learning ability also helps them to excel professionally, as the internet is an ocean, that has an answer for every query. One must have to be smart & capable enough to use it.
7. Indian Coders Are Intellectual Personalities
Most Indians are good at mathematics. So, they have a good foundation for problem-solving as well as logic building. This helps a lot in the coding process. Because Indians have always been good in Maths, they are good programmers and coders.
8. Flexibility & Scalability
One of the major advantages of considering Indian developers is the flexibility that you people enjoy in terms of hiring programmers. This clearly means you can hire a remote development team for your project at a low cost. Moreover, the offshore company offers flexible hiring models as per the project requirements and budget of the client.
So, during the development phase, if the project demands you to increase or decrease the size of your remote team, it is easy to do so. You just have to inform your outsourcing partner a few weeks prior to making the change. 
9. Reduced Time to Market
Considering that you hire offshore developers from India, make adjustments to the scope of work in-between is possible. The reason is that developers in India are very cooperative, understanding, and easy to work with. Plus, if you have a deadline to chase, they can even provide more assistance in terms of adding new resources that can work outside their time zone (at a nominal fee).
10. Indian Software Developers Are Good Communicators
Effective communication is inclusive of understanding language, culture, and providing regular feedback. Because Indian developers are fluent in English, most of the countries around the globe won't face any issue.
Also, if you are working with a reliable Indian outsourcing company, you can expect frequent project updates, reports, and even suggestions. All of this will help you build trust in your team and make the offshore collaboration fruitful.
You just need to make sure that you are providing them regular feedback and treating like your in-house team.
11. Secure & Transparent
The Government of India takes the software outsourcing industry very seriously. For the same reasons, they have made their policies easy for businesses. To avoid any fraud and online scams, the country even has created strict Cybersecurity laws.
Furthermore, to strengthen the business relationship, most of the Indian outsourcing companies readily sign up an NDAs (Non-Disclosure Agreement). It definitely gives a sense of relief to the company outsourcing its services in India.
Transparency and integrity are the two things that run the Indian outsourcing industry. Being transparent in the process, you can expect high-quality work, while eliminating any chance of hidden charges or frauds. Indeed, it is one of the top reasons for business shifting their focus to India, leading to a significant increase in the IT outsourcing revenue of the country. 
12. It is Your Team
As soon as you are done with the formalities, the team becomes yours. You will have the complete authority to introduce your own methodologies and bring forward project management tools. Your team will report to you directly. Only the team management part will be the responsibility of your offshore partner.
Wrapping Up
Not to mention, western countries are having a tough time scoping up with developers. As a matter of fact, this mismatch between the supply and demand has lead to hiring Indian developers which are adept, affordable, and abundant. The Indian software developers and offshore offices are flourishing across the country.
https//yourteamindia.com/blog/indian-developers-good-programming